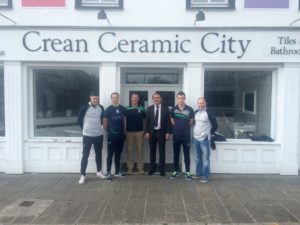 Our main club sponsor, Mr Alan Crean this evening presented members of the 2017 senior team with their official club gear, comprising a training top, polo shirt, 3/4 zip top and tracksuit bottoms.The Crean family and Charlestown Sarsfields is one of the longest established sponsor partnerships in the county and the club is fortunate to have such strong support.
With the lads doing the business on the field and the recent improvements to our grounds, the Sarsfields are in a good place at the moment.
Present were Senior captain Colm Maye, Patrick Walsh, chairman Liam Breheny, Mr Alan Crean, Gareth O'Donnell and secretary Kevin Duignan.