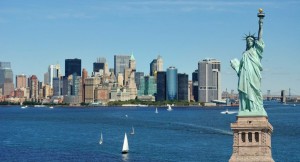 Charlestown Sarsfields will be continuing the clubs great tradition of tours to the USA in 2016. The club first toured the USA in 1980 in a tour lasting nearly 3 weeks. It would be another 16 years before the club again ventured across the Atlantic, this time to celebrate the winning of the Senior league and lasting 10 days.
The club has always had strong links across the United States and with New York in particular, due to the many young men and women who have emigrated from our community over the years.
We will be departing for New York on Thursday the 7th of April 2016 for 5 nights staying in midtown Manhattan (Wellington Hotel). It is our intention to play a challenge match against a local team in Gaelic Park on Saturday the 9th. We are also planning to have a function back in Manhattan on the Saturday night which will allow all our family and friends living in the United States to meet up. This promises to be a special occasion with so many Charlestown people from all over the world meeting up for the night.
If you have any questions or are interested you can contact Liam Breheny or Kevin Deignan or else leave a comment below. Check in regularly with the website for updates and travel arrangements.
The Official Itinerary
The wellington hotel
Read our post on the Wellington Hotel – Our accommodation for the 5 nights – HERE
Charlestown Sarsfield's Vs Sligo GAA – Facebook Event:
https://www.facebook.com/events/116758132052575/
Fundraising Event – 2nd August 2015
Confirm your interest in attending on Facebook
ESTA Visa Link