Hello Folks,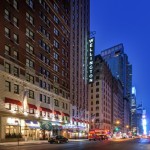 We have now booked the hotel for our trip to New York in 2016 and we think everyone will be pleased  with our choice. The Wellington Hotel is a 4 star hotel located on 7th Avenue in Midtown Manhattan , in the heart of all the action. Below are the room rates for the 5 nights. The prices listed below are in USD, inclusive of taxes and charges and are PER ROOM/PER NIGHT (breakfast in not included). If you are doing any price comparisons online, please bear this in mind.
Standard Double (max 2 people) $170  (Standard double room)
Deluxe Double (max 2 people)  $180  (Deluxe double room)
Standard Double/Double (max 2 people) $210  (Standard twin room)
Deluxe Double/Double (max 4 people)  $250  (Twin room for up to 4 sharing 2 beds)
Please follow this link for a more detailed description of the hotel and the rooms. We will be contacting everyone over the coming weeks as we need to have a rooming list for the hotel, so please decide which room type you want and who you will be sharing with.
Regards,
The Committee