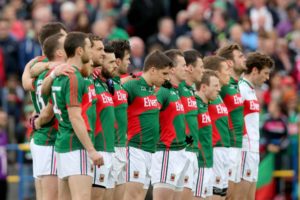 It's well publicised at this stage, but Tom Parsons will be starting his first All Ireland final tomorrow. It's a massive honour for his family, his club and his community. Tom will be joining the elite ranks of Pádraig Carney (50&51), John Casey (96&97) and Aiden Higgins (06) in being only the fourth Sarsfields clubman to start a Senior All Ireland football final (Denis Carney was a sub in 1989).
Dr Carney aka "the flying doctor" played for the club for a number of years and we have no doubt Tom will emulate his success tomorrow.
On behalf of the club, I would like to wish Tom, the management and all the Mayo players the very best of luck in tomorrow's final.
Go n-éirí an t-ádh libh!
Liam Breheny
Cathaoirleach